Restaurants & Bars
Since IBEROSTAR applies an 'all-inclusive' concept at its super luxury hotels, a varied and exceptional cuisine is of course part of that. With four à la carte restaurants, another on the beachfront, and an international buffet, the chefs on the hotel grounds offer a menu that lets you select from the most elaborate Japanese, Italian, French, or American cuisines, or try a selection of the finest and most well-balanced international cuisine, accompanied with a fine selection of wines, beers, and liquors.
And if you'd like to have a drink or enjoy a bit of live music, there are five bars at the Grand Hotel Bávaro, and we have recreated an authentic Spanish galleon that will have you reliving dreams, adventures, legends, and history.
Note: To respect the harmony and elegance of our resort we inform you that the dress code in the specialty restaurants is smart casual. For gentlemen the use of long pants, closed shoes and shirts with sleeves is required.
The use of mobile phones is not allowed. We ask our guests to respect their reservation times so as not to delay other guests' reservations. Regarding dinner time, we offer our guests a 15 minutes grace period that should only be used if required so that subsequent guests are not affected by your delay.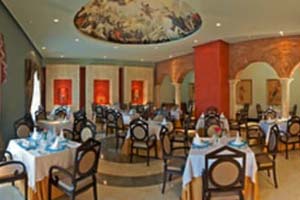 La Tentazione
Italian Restaurant
How about a candlelit dinner savoring the very best Italian cuisine? Don't think twice - simply give in to temptation. At La Tentazione Restaurant you can select from the à la carte menu featuring starters, salads, main courses and desserts that will quite simply take your breath away. Book your table and enjoy a fabulous dining experience.
Open from 18:30 to 21:00 hours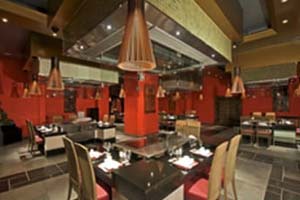 Hashira
Japanese Restaurant
The décor of this restaurant will make you feel like you're in the Far East, while the fabulous Asian dishes prepared in our live kitchen or directly at your teppanyaki table will make dining at the Hashira restaurant a truly unique experience.
Open from 18:30 to 21:00 hours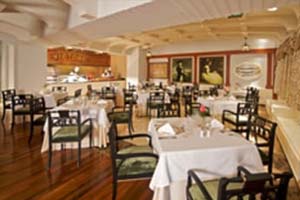 El GaleÓn
Surf & Turf Restaurant
Another of our themed à la carte restaurants that is guaranteed to surprise and delight you, with its mouth-watering dishes and fabulous atmosphere. Don't forget to book your table at El Galeón Restaurant.
Open from 18:30 to 21:00 hours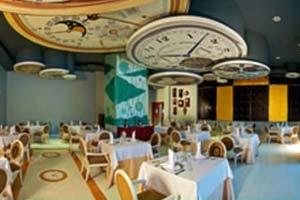 Le Tourbillon
Gourmet Restaurant
Specializing in gourmet dining, Le Tourbillon offers a magnificent à la carte menu and the most seductive of settings.
Open from 18:30 to 21:00 hours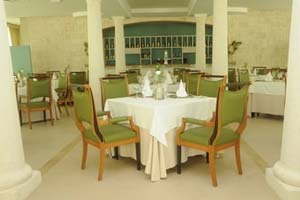 Casa de la Playa
Mediterranean fusion food
Located in Front of the sea with a finely appointed décor, our "Casa de la Playa" restaurant offers an eclectic menu of Mediterranean fusion food served in an interactive & personalized fashion to provide our guests the most exquisite experience.
Open from 18:30 until 21:00 hours.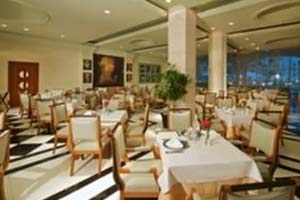 Bella Vista
Main Buffet
The Bella Vista Buffet Restaurant serves full buffet breakfasts and lunches. The finest culinary delights await you.
Open from 07:00 to 22:00 hours
From 12:00 to 19:00 the buffet will remain closed.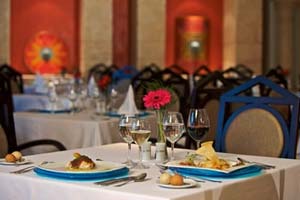 La Perla
Buffet
Near the beach and open for lunch and snacks during the evenings.
Open from 12:00 until 17:00 hours.